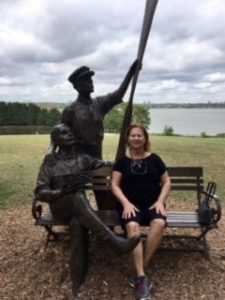 I have spent a lifetime working in the Customer Service arena, both on the service side and also on the programming side.   I worked primarily for a chemical company in Pennsylvania and then for a food company in Illinois.  I retired in August 2016.
I tried pottery as a new hobby back in the 1990's.  I discovered I liked the creative process during that time.  A ceramics teacher introduced me to fused glass over a decade ago.  I have been hooked ever since.  I am very lucky to have taken a number of fused glass classes from great teachers.
I enjoy pattern and color in my design work.  I have also started a path toward stenciling designs on glass with powdered glass, which I am very pleased with. I am not as concerned with precision as I know the glass will melt and possibly give me another element of design.  I feel very privileged to be able to do art at this time of my life!  Glass is a fun medium!