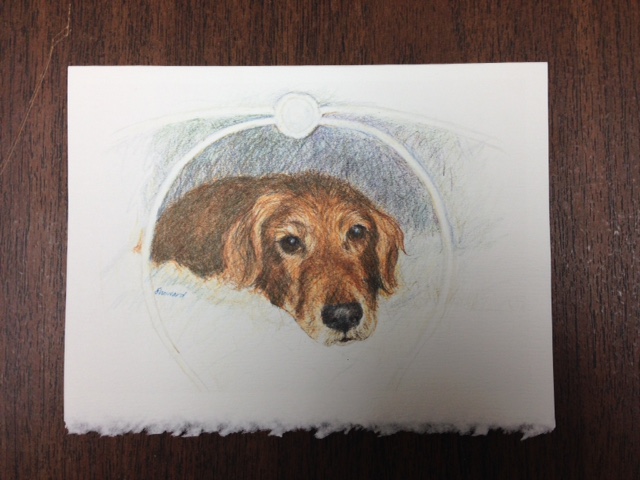 FREDERICKA HOWARD: DRAWING YOUR PET'S PORTRAIT
Saturday, February 21, 12- 4 PM
Learn to draw your animal buddy at Gallery 200's Art Share on Saturday, February 21, 2015. If you think your talent extends only to four sticks and a circle, well, think again. You will learn to use colored pencils to capture the soul and the personality of your pet.
Fredericka Krauss Howard is Gallery 200's local "sketcher," and well respected for her drawings. She's known for her animals — you feel that animal-speak is her native tongue. From collies to calicoes to koi and cockatiels, and even the squirrel that swings from your bird feeder, Fredericka will show you how to draw these wonderful characters, one line at a time.
While Fredericka modestly describes herself as a "line scratcher," her colored pencil work has made her a local celebrity and a noted local art figure for years. Her work is full of charm and grace: local wild animals and her domestic friends, as well as DuPage County houses and barns. A founder of Gallery 200, an esteemed teacher, in 2009, Fredericka received a Studs Terkel Humanities Service Award for her contributions to the arts.
Mark your calendar today!
Admission is free; no reservations are necessary. Just bring in a photograph of your favorite animal buddy (or Fredericka will let you borrow one of her photos to work from).
During Art Share Saturday, Fredericka will also offer pages from her sketchbooks for $1 each, with proceeds to be donated to the West Chicago Community High School Scholarship Fund for arts students. See you Saturday, February 21, 12-4, Gallery 200, West Chicago!
200 Main Street, West Chicago, IL