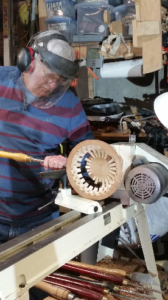 My name is Earl Weber and I aspire to uncover beauty in wood. 
My background education and career is metallurgical engineering making it difficult to work from the other side of the brain. If you know any engineers, you know what I mean.
The career helped me appreciate the underlying structure of metals when viewed through a microscope as viewing a trees' underlying appearance in a turned object.  An appreciation of a trees' internal beauty exposed by cutting, turning and finishing makes God's handiwork visible.
Enjoy the beauty of the wood and appreciate how the shaping has enhanced the experience.
Wood is such a tactile medium. It calls out to be touched, handled, turned over and examined.
I have been making items out of wood for the past 40 plus years for family, friends, craft fairs and outlets.
For the past 10 years my main focus has been on turning wood and artistic expression and design. Exposure to artists in wood turning from Chicago and around the world has influenced my work.
What do you want your work to say? 
I prefer the work to remain silent (so to speak) and let the viewer decide ……. after all, art is in the eye of the beholder.
Why turning?      Turning requires the use of hands to form the wood to pleasing shapes and uncover the beauty already there.