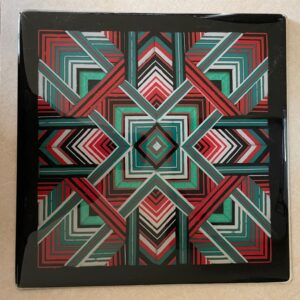 "I enjoy patterns, geometric shapes, and figuring out how to create patterns in glass."
Although I was not an art major, and my day job has been as an engineer programming computers and building websites, I have always loved glass and mixing media to create functional pieces.  Figuring out how to create something is as satisfying to me as the finished product. Before fused glass, I dabbled with stained glass, quilting, macramé, sewing, cross stitch, and more fads than I can remember.  I discovered fused glass over 10 years ago, and it has become my favorite media. I am inspired by shapes in nature, the patterns I see around me (e.g. the pattern on a hotel carpet or the side of a building), and  observations of shapes, art, and colors of cultures I see as I travel.
In May, 2022, I took a full week long glass class called Masterclass: Advanced Pattern Making in Glass by Ian Chadwick. I learned a new technique, that allows me to make intricate geometric patterns, and experiment with  color schemes. The possibilities are endless – and I am hooked!
See more glass at my glass page on facebook: page:: Fused for You by Sue Tripp (available even if you are not on facebook)
I live in Warrenville with my husband, Russ, a retired dentist. We have two grown and married daughters, and enjoy watching our 6 grandchildren grow up.