November 2022 Featured Artist
---
Fun and Functional Fused Glass Art
Opening Reception
Friday November 4 from 6-8 pm
Come to see the fused glass art, meet the artists, enjoy refreshments, and hear music by a Native American style flute jam.
A portion of the Gallery 200  space will become  a Garden in Glass. We  feature our garden stakes and nature inspired art including dishes. lanterns, and wall art. It also includes sun catchers to hang in your garden.
The creators of this glass art are Sue Tripp, a Gallery 200 artist, and Valerie Baxter, a returning invited artist. Sue and Valerie work together at Rita Skarha's Art Glass Studio.  Here they learn new techniques and try new processes, inspiring them  to improve their techniques and evolve as artists. During the opening reception, the glass that projects are created from will be be on display to give you an idea of how the beautiful fused glass art. is created
Native American style flute music will provide a calming background for the reception. Members of the Living Waters Native American Flute circle, including Russ Tripp will  play tunes for you.
"Fused for You –  A Garden in Glass" will be on display for the entire month of November. Please visit during  gallery hours:
Thursdays 2 pm – 6 p
Fridays 2 pm — 6 pm
Saturdays 10 am – 4 pm
Sundays 12 pm – 4 pm
Note — Closed Thanksgiving weekend except Small Business Saturday on 26
About the Artists
"I enjoy patterns, geometric shapes, and figuring out how to create patterns in glass."
I have been fusing glass for over 10 years, drawing inspiration from shapes in nature, the patterns I see around me (e.g. the pattern on a hotel carpet or the side of a building), and  observations of shapes, art, and colors of cultures I see as I travel.
In May, 2022, I took a full week long glass class called Masterclass: Advanced Pattern Making in Glass by Ian Chadwick. I learned a new technique, that allows me to make intricate geometric patterns using various color schemes.  I am hooked — the possibilities are endless! This exhibit features my use of this method.
Valerie Baxter
"I draw inspiration for my art from my travels and my garden.  I'm enjoy creating whimsical interpretations of nature."
I found fused glass art a little over ten years ago during the annual garden walk in my community.  In one garden, the artist blended their flowers with their fused glass art and I knew it was something I wanted to try.
Each of us is drawn to certain colors, as you will tell by my work, blue is my color. I create designs that are practical and meant to be used.  I am always eager to try new techniques and love when someone commissions a piece that stretches my talents.
---
---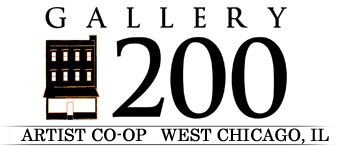 Gallery 200 Address
103 W. Washington St,
West Chicago, IL 60185
Contact Gallery 200
630-293-9550
[email protected]
Follow Gallery 200 on Facebook